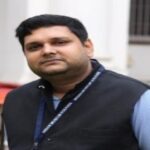 Sayan Bhattacharya
Indian Museum, Kolkata
Education Officer
Country: India
Biography
Sayan is currently serving as Education Officer at the Indian Museum in Kolkata having previously been Programme Assistant at the Centre for Archaeological Studies in Eastern India.
He has a PhD in Archaeology at the Decan College Postgraduate and Research Institute in Pune, India. Previously, Sayan has made contributions to the field of archaeological academia and presented the papers Cultural Resources and Heritage means of Indic Studies Interaction between Children and Museum in Sofia, Bulgaria (2009); Preliminary Archaeological Investigation at site of Kotasur and its environ, District Birbhum, West Bengal in Colombo, Sri Lanka (2010); Disaster Risk Mitigation of Cultural Heritage: an Appraisal in Colombo, Sri Lanka (2011), and Early Medieval Archaeology of the Ajoy Damodar Dwarakeshwar Interfluve Area in 2015.
At the British Museum
During his time on the International Training Programme in 2009, Sayan was based in the Department of Asia and his partner placement was spent at Birmingham Museums Trust.
Sayan's exhibition proposal was entitled Hanuman, The Monkey God.
Legacy Projects
In November 2015 Sayan attended the ITP Mumbai Workshop Creating Museums of World Stories. The workshop was held at CSMVS Mumbai, India and was attended by many ITP fellows from different years and countries, UK partners and British Museum colleagues.
ITP Newsletter Publications
ITP Newsletter Issue 3, Reasons for celebration: 202 years of the Indian Museum