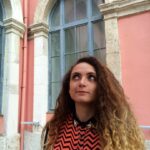 Sibel Yasemin Özgan
ETH Zürich
Post-Doctoral Researcher
Country: Turkey
Biography
Sibel Yasemin Özgan works as a postdoctoral researcher. Her current research project is entitled Revitalized Craft: Formalizing the Hands-On Computation Behind a Thirteenth Century Domical Pattern. The principal aim of the research is to produce a formal description of the design methodology in order to develop a computer aided design application. This implementation can assist contemporary computational design practices. The research is conducted in ETH, the Institute of Technology in Architecture, which is one of the most important institutes working at the interplay between architecture and information technology.
Sibel was trained as an interior architect. Her interest in algorithmic design thinking and its roots in art and design history channelled her towards studying design computation in her graduate studies. She studied as a TÜB?TAK (The Scientific and Technological Research Council of Turkey) scholar in the Architectural Design Computing Doctoral Degree Program at the Istanbul Technical University, where she worked as a research and teaching assistant between 2012 and 2018. During her PhD studies, she participated in the British Museum's International Training Programme in Summer 2013 and spent an academic year between 2016-2017 as a visiting scholar in Berlin University of Arts (Universität der Künste Berlin) in the Department of Digital and Experimental Design (Digitales und experimentelles Entwerfen).
She received her PhD degree in 2018 with a thesis entitled: Computational Design in the Medieval Seljuk Art: Learning From The Hands-On Creative Traditions Of Geometric Patterns. Her dissertation examined the hands-on computation and making of medieval master craftsmen by reverse-engineering of geometric pattern designs. She worked as an Assist. Prof. at MEF University Faculty of Art, Design and Architecture from 2018 to 2020.
Her research and teaching focused on computational making and material computation, craft theory, digital craftsmanship, fabrication and creative coding. Her research interest lies in the relation of computation to histories of art, crafts and architecture. She believes that historical examples of design production provide valuable references for non- digital calculations past and she is interested in how computational theory can benefit from such instances. Her research interprets the history and theory of progressive pedagogy in art and design from a computational perspective. Sibel has a broad range of teaching experience from extensive tutoring in international workshops and individual mentoring to teaching both postgraduate and undergraduate courses and design studios.
At the British Museum
During her time on the International Training Programme in 2013, Sibel was based in the Greece and Rome Department, and her partner placement was spent at Glasgow Museums.
Sibel's exhibition project proposal was entitled The passage of a Bride: Persephone of Knidos.
Legacy Projects
In November 2015 Sibel attended the ITP Mumbai Workshop Creating Museums of World Stories. The workshop was held at CSMVS and was attended by many ITP fellows from different years and countries, UK partners and British Museum Colleagues.