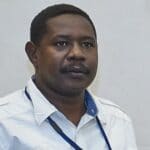 Elghazafi Yousif Eshag Abdallah
Sudan National Corporation for Antiquities and Museums
Senior Curator
Country: Sudan
Biography
Yousif is an archaeologist, particularly interested in the production of ceramics across different Sudanese civilisations. Working in the Documentaiton section, Yousif and his colleagues oversee the registration of new objects coming in from archaeological fieldwork each year. He uses an electronic database as well as a print register.
In 2016 Yousif began conducting researching for his post-doctoral studies at the University of Neuchâtel. In the same year he participated in a British Museum mission at Alkawa archaeological excavation in Sudan.
At the British Museum
During his time on the International Training Programme in 2013, Yousif was based in the Department of Egypt & Sudan, and his partner placement was spent at Birmingham Museums Trust.
Yousif's exhibition project proposal was entitled Kaskara – The Sword of Ali Dinar, Last Sultan of Darfur.