ITP28 – Looking Back at the First 2 Weeks
Written by George Peckham, International Training Programme Assistant
Throughout February the ITP network has been sharing photos and memories everyday as part of #ITP28. Each day has a different theme, mostly related to the ITP, museums and our experiences over the last 12-months.
We are reaching the halfway point of ITP28 so I thought this would be a great chance to look back at some of the contributions we have had so far. As of writing this blog, there have been an amazing 261 ITP28 submissions!! Thanks to everyone who has got involved so far and keep your ITP28 posts coming!
As it would be impossible to share all of the contributions in this blog, I have gone through and selected a few from each day to show what the network have been doing so far.
Day 1: Who Am I?
I am Yasser Abdelrady, I am a Conservator of Antiquities at the Nubia Museum, Aswan, Egypt. I have joined the Nubia Museum since 2012. Mainly, I am responsible for preservation and conservation of museum objects. In addition I am a member of staff in the Educational Department of the museum. My role involves giving guided tours to students and making speeches on the importance of collection care and conservation process. I was ITP 2019 Fellow, and I am very pleased to be one of the ITP global network members. This is me at Stonehenge 2019, with ITP 2019 papyrus made by me in Egypt to the ITP 2019.
Yasser Abdelrady – Egypt, ITP Fellow 2019
Nagwa Baker: from Egypt ITP 2019. Community Exhibition Officer – Ministry of Tourism and Antiquities. PhD candidate in Museum Studies & Heritage. I'm very interested in heritage, especially the intangible heritage and oral history. The intangible heritage of local women and their role in interpreting, preserving, and transmitting the heritage to future generations. The photo here is part of my field work in Nubian villages / south border of Egypt with local women to record their heritage.
Nagwa Bakr, Egypt, ITP Fellow 2019
Day 2: My Museum
I am not working in a museum at the moment but this is the museum that inspired and made me love museum work. The National Gallery of Zimbabwe opened in 1957 in then Southern Rhodesia for the people of the Federation of Rhodesia and Nyasaland. Today it has a collection of over 6000 art objects and artworks. It is a place of interesting and important conversations on art and community.
Fadzai Muchemwa, Zimbabwe, ITP Fellow 2017
Karen Blixen Museum is the former home of the Danish writer Karen Blixen and one of my favourite places and museums. Built in 1912, the House has been witness to many historical events and was presented as an Independence Gift to Kenya in 1963 by the Royal Danish Government. It was made famous by the movie Out of Africa.
Eileen Musundi, Kenya, ITP Fellow 2008/Senior Fellow 2013
The Museum for the Campaign Against Genocide, Officially inaugurated on 13 December 2017 by H.E Paul Kagame, President of the Republic of Rwanda, is one of the eight museums operating in Rwanda under the Management of Institute of National Museums of Rwanda recently changed to Rwanda Cultural Heritage Academy. It was established with the aim of preserving and exhibiting the historical legacy of the Campaign led by Rwandan Patriotic Army(RPA) in 1994 that stopped the Genocide perpetrated Against the Tutsi.
Chantal Umuhoza, Rwanda, ITP Fellow 2018
Day 3: ITP Memory
Day 4: Nature
Soaking up some winter sun in the urban garden outside the home office!
Amalia Kakissis, Greece, ITP Fellow 2018
Lake Bunyonyi the deepest lake in Uganda found in Kabale. Terraces are dug on the hills including some islands making its nature look beautiful and attractive.
Solomy Nansubuga Nabukalu, Uganda, ITP Fellow 2018
Day 5: Object
In 2012, after months of excavating somewhere in Danube Delta region, after finding only "empty" skeletons, I found the first artefact: a Bronze Age earring (so called the "boat" type). From all of the artefacts I found, this haunted me the most. I called it "Queen's earring".
Ioan Oprea, Romania, ITP Fellow 2019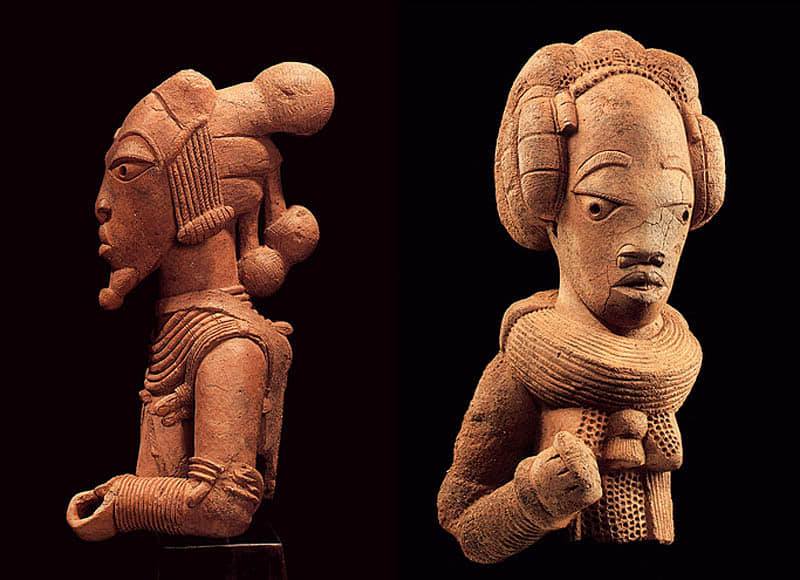 Kaduna State of Nigeria had more sites of Nok Terracotta as well as National Museum Kaduna had the highest collections of Nok Terracotta.
Ishaq Mohammad Bello, Nigeria, ITP Fellow 2012
Day 6: My Role
My role as a Curator Anthropology is to ensure the safeguarding of the 25000 objects from different parts of Africa and few from Asia and Australia. The collection comprises objects associated with the cultural and social history of different cultural groups and the liberation struggle of South Africa. Some of my responsibilities are: the development and delivering of exhibitions, assisting postgraduate students from various tertiary institutions with research projects and continually researching on the objects under my care and publish findings. Also, I engage with the media when the need arises.
Motsane Seabala, South Africa, ITP Fellow 2016
As a senior curator at the Ivan Meštrović Museums I am responsible for the collection, its presentation and protection. I am organising exhibitions and giving lectures in my homeland and abroad and I am involved with cooperations with other institutions. I am especially enjoying research work and dealing with art objects, either from my collection, either from another one, for instance I was very lucky to work with such institutions as the British Museum and Rodin Museum.
Barbara Vujanović, Croatia, ITP Fellow 2016
Day 7: Recipe
I was a few days ago in the small town of Samobor at an exhibition when I learned that their traditional dessert samoborska kremsnita, as well as the transfer of skills, practices, and traditions of confectionery, has received the status of an intangible cultural good. It will be inscribed in the Register of Protected Cultural Heritage of the Republic of Croatia. The recipe is on the link.
Ana Šverko, Croatia, ITP Fellow 2016
By request… 15s. 15s are a (very) sweet treat that come from Northern Ireland. Named because they have 15 of several key ingredients. They form a core part of the partner museum experience here. They're easy & fun to make.
Ingredients:
– 15 digestive biscuits (like Graham's Crackers)
– 15 large marshmallows (cut into 1/4s)
– 15 glace cherries (cut into 1/4s)
– 150ml condensed milk
– 75 – 100g desiccated coconut (for dressing)
Method:
1. Crush biscuits into powder form.
2. In a bowl add crushed biscuits; chopped marshmallows & cherries.
3. Add the condensed milk bit by bit to the bowl & mix with a fork. The mixture should be sticky & bind together but not be too wet (if it looks too wet add more crushed biscuits).
4. Place some greaseproof paper on a flat surface & sprinkle with 1/2 desiccated coconut.
5. Put mixture onto paper & shape with your hands into a long oblong/ sausage shape.
6. Sprinkle with the remaining coconut.
7. Roll/ wrap the oblong in the paper. Twist/ tie each end of the oblong.
8. Put in fridge until firm (4 – 5 hours or overnight).
9. When firm, unwrap & slice into 1cm rounds to eat & enjoy.
10. Can be stored in the fridge/ keeps well for up to a week. Recipe can also be easily doubled (useful if you can't find a small tin of condensed milk).
I hope you enjoy 😋
Louise Smyth, ITP UK Partner, National Museums Northern Ireland
Day 8: Currently Reading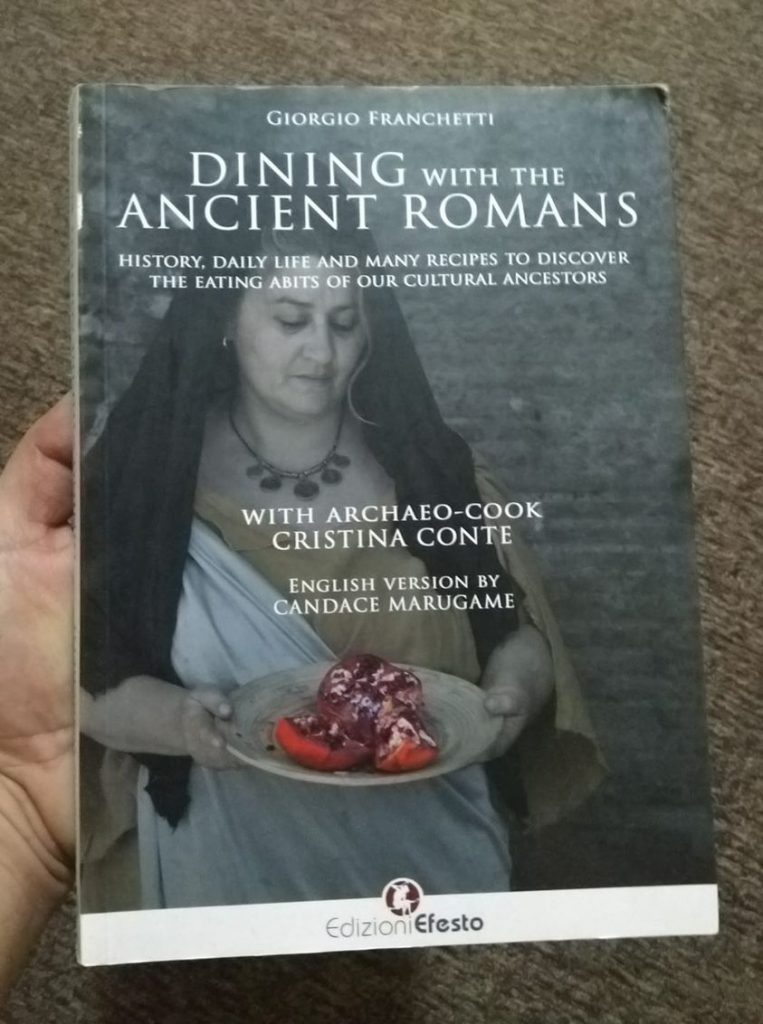 Since yesterday we had the recipe theme, my current reading is related. I am reading this book in order to make its review for the Alba Iulia Union Museum periodical magazine, the Apulum magazine. It will be part of my Ph.D. portfolio (the subject of my thesis being the historical reenactment in all its forms). And in order to make a proper review I am also currently looking for a doable recipe in here.
Ciprian Dobra, Romania, ITP Fellow 2019


#CurrentlyReading one of my favourite authors, Deon Meyer. He writes in Afrikaans, but his work is translated in many languages. I just devour his books.
Rika Stockenstrom, South Africa, ITP Fellow 2007
Day 9: London Memory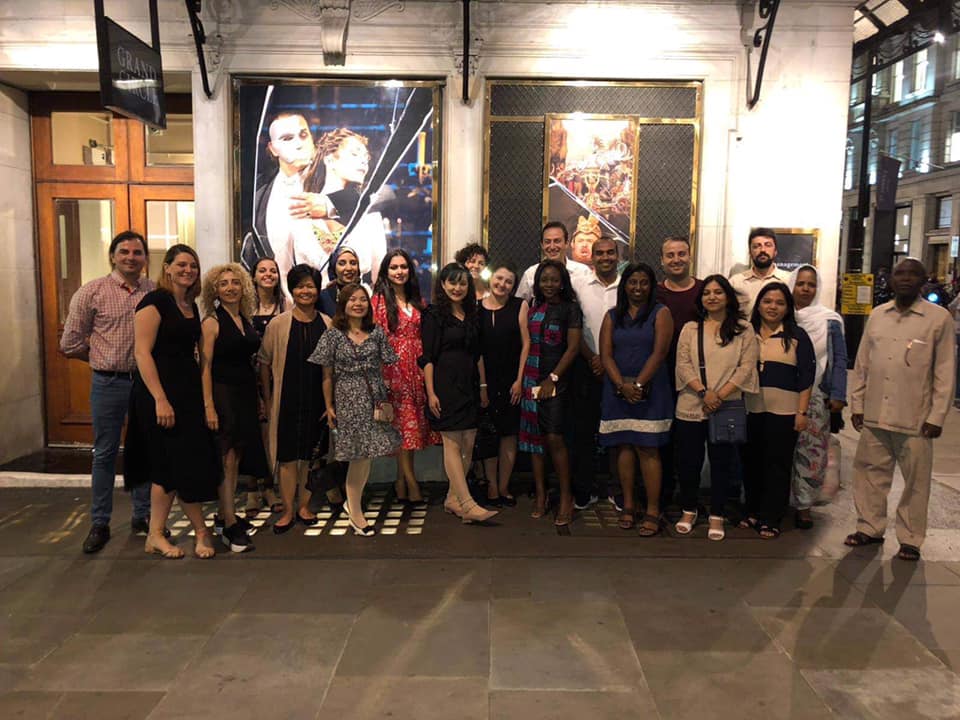 They say—when you go to New York, you should never miss watching a Broadway performance. When you go to London, you should also not miss the West End theatre—And that's what I did. I enjoyed 2 shows making London very memorable—"The Phantom of the Opera" at Her Majesty's Theatre with ITP colleagues and "The Night of the Iguana" by Tennesse Williams, starring Hollywood actor Clive Owen, at the Noel Coward Theatre.
Aprille Tijam, Philippine, ITP Fellow 2019
Day 10: Community
Glimpses of the Mishing Community from Balipara, Assam in their village. This is Assam's first certified green village and a fine example of community conservation. The traditional weaving culture is still dominant in this village.
Namrata Sarmah, India, ITP Fellow 2018
We link the community with the museum by allowing youth and women to sell some of their handicrafts production during the activities events that we organized at the museum.
Diana Digna, Sudan, ITP Fellow 2019