Day trip to Stonehenge (Dana Khalil, UAE, ITP 2022)
Written by Dana Khalil, Visual Arts Manger, Abu Dhabi Music and Arts Foundation, (UAE, ITP Fellow 2022)
My name is Dana Khalil, I'm an Egyptian born and raised in the United Arab Emirates. Before transferring to the Abu Dhabi Music and Arts Foundation, I spent three years working for the government's Department of Culture and Tourism.
On Saturday, we went on a trip to visit Stonehenge. The ride was almost two hours long but time flew by because I was with such wonderful people. When we arrived, we decided to walk from the visitor centre to the site in a slightly chilly yet sunny weather. Despite the fact it was quite busy, we were able to capture amazing pictures. Near the visitor's center there was a good café and a large gift shop. Overall, it was a fantastic day that left great memories. The activations and services that surrounded the site astounded me, including an audio guide mobile app in eight languages, a hands-on station, shuttle buses, a special gallery, and many more.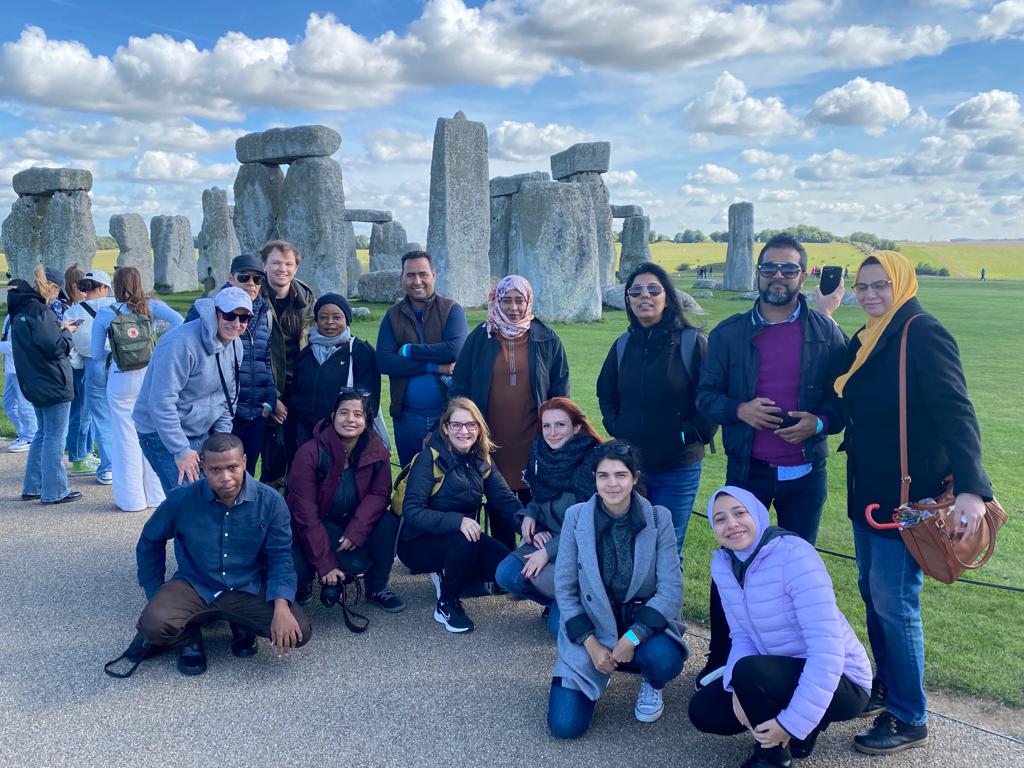 As we were on a field trip today, we didn't stop by the British Museum. However, there's an object that I have been captivated by since I saw it at the temporary exhibition, Feminine Power: the divine to the demonic.
Intaglio with an incised image of Adam and Eve, 200-400 CE. Italy
This object is extremely small, measuring only 1.4 x 1.1 x 0.4 cm. But the intricate carving of Adam and Eve with the forbidden fruit trees is simply stunning. While admiring it, it occurred to me that craftsman techniques are also art; they are unique and always necessitate a great deal of dedication to their work of art.
During the past week I spent time with my colleagues and Eneida Braga Rocha, a museum consultant from Brazil, is the colleague I'd like to introduce.
During her time in the UK, Eneida is interested in learning about new forms of sustainability within museums, and deepening her knowledge of development volunteering management and community engagement in both the British Museum and during the UK partner placement. She is a very loving person and loves taking care of everyone making sure no one is left out. Eneida and I share some personality traits however I want to learn from her the love for a challenge. She is very active and always ready to go somewhere new and try new things.